TSMA – A new class in sanitary temperature measurement
You thought a temperature gauge could no longer be improved? Then let us surprise you!
15 Mar 2021
Anderson-Negele sensors are synonymous with quality, reliability and durability in food and life science applications. The new TS temperature sensor series is now entering the market with TSMA Mini version, a new generation with upgraded performance class.
Thanks to the integration of the digital interface IO-Link, a new configurable design, a comprehensive range of performance upgrades, and in particular the wealth of experience gained from thousands of applications, the TS series offer unprecedented flexibility and application reliability.
The Flex-Hybrid-Technology with IO-Link and 4…20 mA combines the best of two worlds: Data can be communicated from the sensor in digital, analog or parallel mode.
With its flexible plug and play, TSMA makes communication, installation and commissioning time and cost saving
Easy individual programming with IO-Link Master, e.g. for changing the measuring range or for two-point adjustment using zero and span
Sensor replacement is easier than ever before thanks to "Smart Replace Design" with automatic sensor identification, configuration and parameterization via IO-Link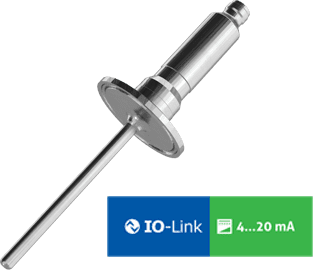 With a further improved product quality TSMA is the new benchmark for temperature:

Extended process temperature range: -58 °F…+482 °F
Greatly improved measuring accuracy: < ±0.1 °F
Higher ambient temperature resistance: 185 °F
One-Piece Design completely in stainless steel: Durable stability, and application reliability



The fully configurable concept allows you to compose your individual desired sensor in just a few steps. Thus TSMA offers a suitable solution for every application

For both new equipment and retrofitting, the modular design together with the Flex-Hybrid technology creates maximum flexibility and future-proofing for every application
For the replacement of third-party devices, the wide range of process adaptations and maximum flexibility in configuration means that a suitable model is always available


Click here to get all info on TSMA Mini Temperature Sensor