ITM-51: The first turbidity sensor with IO-Link is now available
Anderson-Negele introduce ITM-51, the first turbidity sensor with IO-Link. The family of Flex-Hybrid sensors with parallel digital AND analog interface continues to grow: With immediate effect, the turbidity sensor ITM-51 complements the conductivity sensor ILM-4 with IO-Link In the next steps, all measuring ranges will be upgraded with this digital technology.
6 Jun 2019
When we upgrade our hygienic measuring instruments to digital data transmission, we rely on the hybrid concept. But in addition to the classic analog interfaces, our Flex-Hybrid sensors are equipped with IO-Link in parallel. This means that data can be transmitted digitally at the same time as 4..20 mA technology, so that the advantages of both worlds can be exploited at any time. The switch from analogue to digital network technology can be made at any moment. This creates investment security, especially in times of substantial technological progress. Two sensors are already equipped with this new parallel hybrid technology: The ILM-4 conductivity sensor and the ITM-51 turbidity sensor. In the next steps, sensors for level, pressure, temperature and flow rate will also be upgraded in IO-Link.
Proven industry standard now also for hygienic and aseptic applications
Under the keyword Industry 4.0, digitization has found its way into many branches of industry and today it is impossible to imagine life without it. IO-Link offers significant advantages when it comes to reliably controlling the entire system technology in process control with a large number of measuring points, control devices and operating elements. After extensive tests of its practical suitability, we are now transferring this technology as the data transfer standard of the future to the hygienic area of food production and the pharmaceutical industry.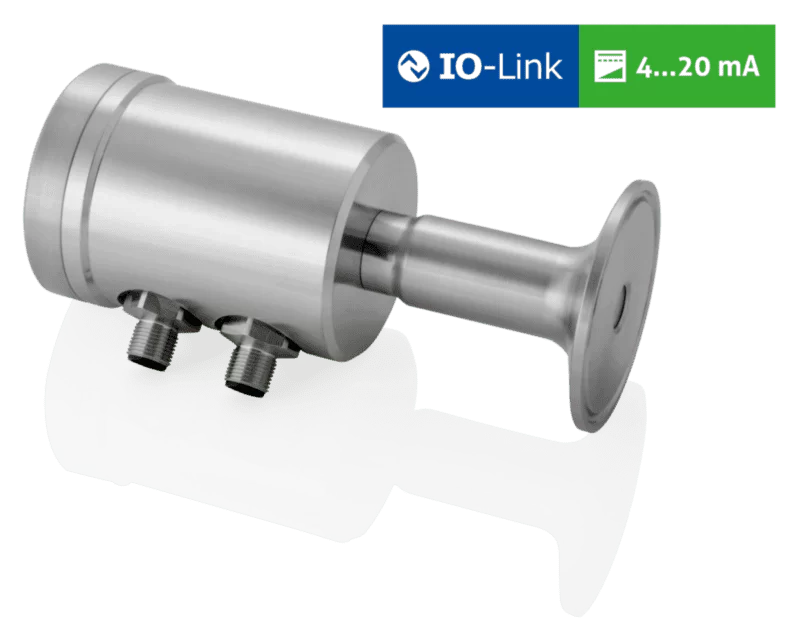 The (R)evolution in sensing technology
IO-Link is comparable to a multi-lane data highway instead of a narrow one-way street. It enables continuous, bidirectional and digital communication from the highest to the deepest level, i.e. to the sensor. Installation and commissioning are extremely time- and cost-saving. A three-pole standard cable, which does not even have to be specially shielded, is sufficient for interference-free signal transmission and power supply itself. In practice, a wide variety of sensors are connected to an IO-Link master using a point-to-point connection, which in turn acts as a bridge to the control centre via a wide variety of fieldbus systems.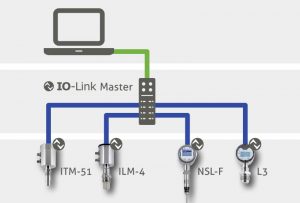 Simple data transfer becomes intelligent communication
With IO-Link, data streams are possible not only towards the control centre, but also in the opposite direction to the sensors. Each individual sensor can be set, queried and checked at any time. This makes it possible to detect potential faults, signs of wear and an increased risk of failure at an early stage and depending on the condition. Maintenance work can thus be planned according to real need and production downtimes can be better avoided.
"Plug-and-play" takes on a whole new meaning
Sensor replacement with IO-Link is easier and safer than ever before and can be carried out independently, at any time and by any employee without any programming effort. For this purpose, the complete device configuration of each connected sensor can be stored in the IO-Link Master. The new sensor is automatically recognized, configured and parameterized by the IO-Link Master when plugged in, and is therefore immediately ready for use.
Ready for digital changeover: Modular sensor platform with IO-Link AND 4...20 mA
The Flex-Hybrid sensors based on the modular platform combine the best of both worlds: the sensor can transmit data in digital or analogue or in both technologies in parallel. This creates planning security, especially in times of technological progress from today's analogue to digital generation 4.0: If, for example, a system is currently still controlled in analogue mode, but a conversion to IO-Link is being considered, the customer no longer has to take a decision. Instead of "either ... or", the Anderson-Negele solution is "and". Simply by connecting a new cable, the sensor is easily converted to digital without having to touch the hardware or the settings.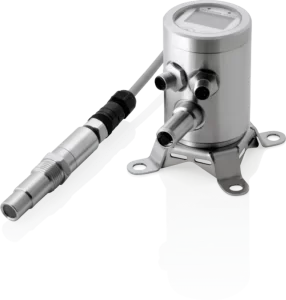 The new dimension of hygienic measurement technology is hybrid and modular
IO-Link alone is a big step towards industry 4.0 in hygienic process technology. The Flex-Hybrid connection of digital and analog communication enables the simultaneous use of both worlds and creates planning security and flexibility for the later changeover without changing hardware. With its application-specific configuration, the modular sensor platform offers equipment that is tailored to requirements and cost-optimised. It enables simple replacement of individual components such as display or electronics. The optional remote version also features separate sensors and electronics housings. The electronics are identical for all sensor types and recognize them independently. This "Smart Replace Design" means that each sensing device can be replaced simply by exchanging and connecting, and only one replacement unit of electronics housing and cable is necessary for all sensors types.
By combining IO-Link with the modular platform, a unique constellation of hardware and software is created that is unmatched in flexibility, simplicity and system compatibility.