New electromagnetic Flow Meter IZMSA
New electromagnetic Flow Meter IZMSA: Precise dosing with self-learning effect
3 Apr 2023
The magnetic-inductive flow meter IZMSA offers optimised and automated monitoring, especially for keg filling, blending vessels and other dosing applications. Overrun control, quantity preselection and temperature detection create more accuracy, reproducibility, and process reliability:
Self-learning overrun control: Overfill quantities, e.g. due to valve response times, are detected and automatically compensated for during control.
Quantity Preselection (Option): For recurring filling processes, the target quantity can be set. A separate throttling stage significantly improves reproducibility
Temperature detection (Option): A direct Pt100 input with time and date recording registers temperature effects
Simplest commissioning and operation: User-friendly control unit with display and buttons, no need to open the housing, quick and easy programming
Manufacturer-independent process connection: Standard aseptic flange according to DIN 11864, with O-ring (no hygiene-sensitive surface seal), pipe standard DN10 ...DN100 (1/2"...4")
Separated Version (Remote transmitter) with cable length up to 10 m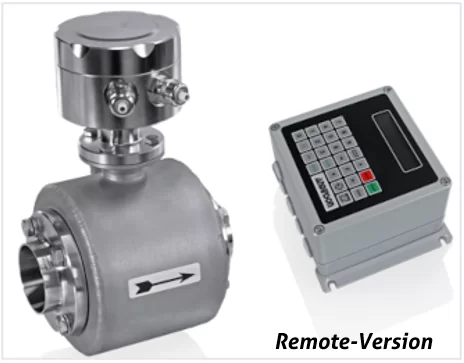 Discover IZMS now! Just click here.