Hygienic temperature sensors are among the most fundamental measuring instruments for monitoring and controlling production processes or CIP/SIP processes in the food and pharmaceutical industry. Anderson-Negele temperature sensors of the TFP series ensure efficient processes and sustainable quality with highest precision and short response times when measuring temperatures and temperature changes in liquid media in many businesses such as breweries, dairies, beverage and wine production and in the pharmaceutical industry.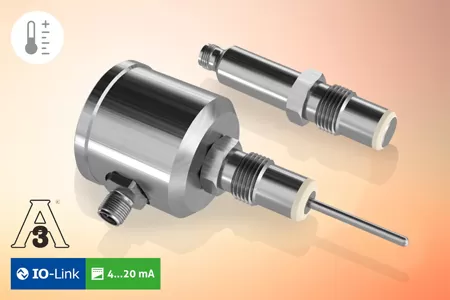 Hygienic design / hygienic materials of TS / TFP temperature sensors
The high-quality Anderson-Negele temperature meters are manufactured completely in stainless steel. For applications in the food industry this is quality class 1.4404 (316L), for pharmaceutical applications 1.4435 (316L). Due to their extremely robust and durable design, the sensors can withstand even the extreme mechanical stresses such as vibrations and pressure shocks that occur repeatedly in many applications in practice.
Process adaptations / Installation of the TS / TFP temperature sensors
A large number of different process adaptations ensure extensive flexibility with regard to installation in new plants and also retrofitting in existing processes, tanks or pipes. In addition to temperature sensors with hygienic thread, Tri-Clamp connection or O-ring seals, there are also variants that allow for integration without process opening and can be installed in pipelines with the smallest nominal diameters. The requirements for hygienic design according to specifications such as EHEDG, 3-A and FDA can be met.
Versions / Performance of TS / TFP temperature sensors
The sensor head can be selected as a compact version with 50 mm or 55 mm diameter or as a mini version with only 18 mm diameter. In both sizes, a version with integrated transmitter or with connection to an external transducer is possible. Depending on the process requirements, the temperature sensors can be equipped with one or two platinum measuring resistors Pt100 in accuracy classes A, 1/3 B or 1/10 B. To ensure that the tip with the measuring chip always sits exactly at the point where the critical temperature is to be measured, insertion lengths of 20 to 500 mm are available, and the inline integration in tanks and pipes is possible with a diameter from DN10. Optional reduced measuring tips with 3 mm or 4 mm diameter improve the reaction speed and significantly shorten the t50 and t90 response times. A front-flush variant ensures that pipes remain completely free for pigging. A special sensor version for installation in thermowells that are welded into the process enables precise temperature measurement without direct contact of the sensor tip with the medium. This means that a sensor can be removed, tested or replaced without opening the process while the process is running. Click here to discover more details on the Youtube video.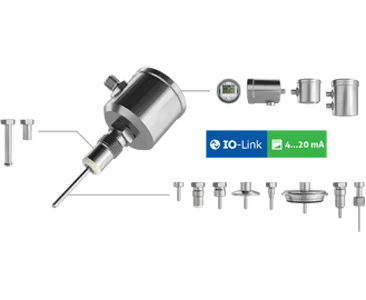 Optional additional equipment of the TS / TFP temperature sensors
The standard version of the temperature meters ensures precise measurement of liquid media from -50°C to 250°C with reliability. Optional versions with a special head design are available for high temperature processes up to 450°C. For visual monitoring at the measuring point the sensor can be equipped with an additional LCD display with digital temperature indication in °C or °F.
Your key to more efficiency: Flex-Hybrid Technology with IO-Link and 4…20 mA
Sensors with digital IO-Link communication with Flex Hybrid Technology make planning, commissioning and operation of your plants easier, faster and more flexible. It combines the best of both worlds: Data can be transmitted from the sensor in digital, analogue or even parallel mode. The bidirectional communication enables status control at any time and preventive maintenance to avoid production downtimes. Installation and commissioning are time- and cost-saving thanks to plug-and-play technology, and sensor replacement is easier than ever thanks to the "Smart Replace Design" with automatic detection, configuration and parameterisation.