Hygienic pressure sensors and pressure gauges for process monitoring are used in a variety of applications in the food & Beverage and pharmaceutical industries.
In almost all production processes in dairies, breweries, the beverage industry, wine production, juice production and other food plants, pressure gauges and sensors for pressure measurement make a significant contribution to ensuring the function and efficiency of the processes and guaranteeing the quality of the products. High-precision monitoring of the process pressure as well as reliable protection against contamination during the running process are decisive criteria in such applications. In the pharmaceutical industry, even higher demands are placed on material quality and often also on precise adherence to the specified pressure specifications, which are met by special pressure sensors for pharmaceutical and biotechnical applications. Special versions are also available for very low pressures, for very high pressures or for differential pressure or remote pressure measurement.
Applications for hygienic pressure sensors
Hygienic pressure instruments can be used for many different application types:
Process pressure measurement:
In many production processes or in CIP/SIP processes, inline pressure sensors ensure that the specified positive or negative pressure values in pipes, tubes, lines, process vessels, storage tanks, bioreactors or other containers is maintained. Pressure transmitters and manometers with switching output can report the deviation to the PLC via an alarm signal, so that an automatic, immediate reaction or protective measure can be triggered.
Hydrostatic level measurement:
With pressure sensors, the level in containers can be determined and transmitted with the highest precision where other level measurement techniques are not possible or not precise enough due to tank size, design, materials, media or other reasons.
Hydrostatic volume measurement:
Intelligent pressure sensors with integrated tank linearization can even go one step further: the combination of level, tank geometry, density compensation and temperature compensation allows the volume or mass in kg, litres, % to be transmitted directly and with maximum precision at any time and for any medium.
Differential pressure measurement:
By equipping a pressure sensor with two sensor stems and signal converters the parallel detection of two pressure values is possible. This allows for the precise measurement of the differential pressure in a pressurized vessel and thus at same time both the precise metering of the level and the monitoring of the head pressure in a pressure tank, such as a fermenter tank, a sterile tank or a juice storage tank. This digital measuring system is easy to install, does completely without capillaries, is reliable and safe. It can be used to monitor the risk of contamination due to a drop in pressure or post-fermentation in juice production.
Designs of hygienic pressure sensors
Pressure sensors are classified according to their design into mechanical pressure gauges and electronic pressure transmitters.
Pressure Gauges:
being mechanical pressure sensors with display, transmit the measured value in analogue or digital form directly to an on-site display. There are also pressure gauges with switching output which, as analogue pressure switches or digital pressure switches, can transmit the measured value for process control or as an alarm signal to the PLC control center.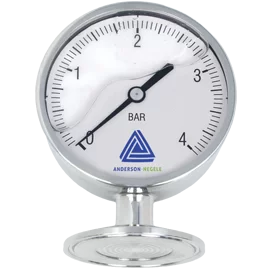 Electronic pressure transmitters:
work with an internal piezoelectric signal converter. They can indicate the measured value in a display, transmit it to the PLC or process it in their intelligent electronics unit itself with other measured data such as temperature. This means that for any requirement a suitable measurement technology with convenient data detection, processing and transmission is available.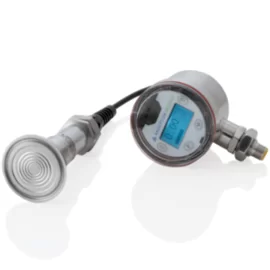 Stainless steel diaphragms:
These are used in most versions of Anderson-Negele pressure sensors. Depending on the application and medium, the stainless-steel grade and surface roughness can be selected individually.
Hygienic design:
Anderson-Negele pressure sensors are developed according to the "HYGIENIC BY DESIGN" principle and comply with the principles and specifications of institutions and organizations such as 3-A, FDA or EHEDG with regard to the criteria for non-dead-leg installation, cleanability, material quality and handling.
Pressure cells and measuring ranges
Anderson-Negele pressure sensors work optionally with pressure cells for relative pressure, for absolute pressure or for compound pressure.
With relative pressure cells the back of the membrane is vented, i.e. the sensor measures the positive pressure relative to atmospheric pressure.
In absolute pressure cells the vacuum generated during the manufacturing process remains between the diaphragm and the base body, i.e. the sensor measures the pressure in relation to the vacuum as a reference point. Absolute pressure measurement is selected to eliminate the influence of varying atmospheric air pressure.
Compound pressure cells allow a relative measurement with vacuum range.
Measuring ranges: A large selection of measuring ranges, i.e. the difference between lower and upper maximum value (e.g. -1…2 BAR / -1…9 BAR / 0…2 BAR / 0…40 BAR) allow a specific and precise adaptation to all process conditions. Even very low pressures up to 0…0.04 BAR are possible by turn-down.
Hygienic pressure gauge
Due to the special Anderson-Negele Long-life technology, the measurement sensitivity and durability are substantially increased. The wear-free mechanical measuring devices ensure a measuring accuracy of up to ±0.25% of the final value for years. The efficient hydro-mechanical damping system provides reliable protection even under severe pressure surges. In addition, the diaphragm is equipped with several mechanical protection features for a long service life, for example by the high material quality of the sensor and diaphragm, controlled welding by skilled personnel in in-house production and a recessed position to prevent damage during handling of the device.
Thanks to the two-point adjustment of zero point and span at any time, early replacement is avoided, thus significantly increasing the service life. The already attractive procurement price is supplemented by a longer service life and leads to a very favorable cost of ownership. The long-term practical suitability is ensured by the robust design, autoclavability, surface roughness of Ra ≤ 0,2μm, CIP/SIP capability and temperature resistance up to 165°C with steam-stabilized diaphragm, the all-round hygienic and easy-to-clean one-piece design in protection class IP66, and the very large and easy-to-read display. The pressure gauges are available in diameters 63 mm and 90 mm, with the visible display showing the maximum size in relation to the size of the gauge. The scale for the pressure indication can be adjusted to the process pressure. In the electronic pressure gauge version, the sensor is equipped with a backlit, easy to read LCD display.
By using a USP Class VI compliant pressure transmitting fluid, contamination due to diaphragm damage and resulting contact of the medium with non-sterile components is excluded. The high-quality design of the stainless-steel diaphragms leads to a longer service life and a significantly lower risk of fracture, as the diaphragm has to move much less.
Hygienic pressure transmitters
A comprehensive product ranges from robust, low-cost pressure transmitters for standard process requirements up to intelligent pressure sensors with high-end equipment for full automation of even the most difficult processes always offers the best possible and most economical device for every requirement, every process and every application.
This allows to meet requirements for special performance characteristics:
High process temperatures: Special high temperature pressure sensors allow process temperatures up to 250°C
High pressure: Some applications, such as homogenizers, work with very high pressures. Anderson-Negele offers pressure gauges suitable for pressures up to 1000 BAR.
Overpressure resistance: In some processes, strong pressure surges can occur, which can damage the pressure sensor. In this case a sensor with a high overpressure resistance should be used. At Anderson-Negele, variants with an overpressure resistance of 40 BAR are available.
Field Repair: Modular pressure sensors with Smart Replace Design allow easy on-site replacement of components, simplifying spare parts inventory and increasing sensor availability.
Temperature compensation: With hydrostatic level measurement, a temperature drift can lead to inaccurate output values. With Anderson-Negele sensors the deviation due to the temperature effect is up to 10 times lower than with conventional pressure sensors.
Turndown: Even with turndown up to 10:1, the measurement accuracy at Anderson-Negele remains up to 0.15% due to the use of the calibrated measurement range as reference.
Pressurized tanks: For pressurized tanks, a differential pressure sensor with two sensor stems is the best solution for high-precision level or volume measurement.
Small tube diameters: the larger the diaphragm diameter, the higher the measuring accuracy. However, this becomes a problem with very small pipelines. This can be overcome by process adaptation with the CPM and CPM Mini adapter systems. These enable pressure sensors with standard diaphragms even for pipe diameters of only ¼". Further information can be found in the product category Process adaptations.
Hygienic design / hygienic materials
The pressure meters are made of the highest quality materials. Depending on type and intended application, the following materials and surfaces can be selected:
Components in contact with the medium: Stainless steel 1.4404 (316L) / 1.4435 (316L)
Pressure cells: Stainless steel 1.4404 (316L) / 1.4435 (316L) / C276 Hastelloy / Ceramic Al2O3
Surface roughness up to Ra≤0,2 μm (electropolished)
A 3.1 material certificate is available for pharmaceutical applications.
Due to their extremely robust and durable design, the sensors can withstand even the highest mechanical stresses such as vibrations and pressure shocks, which occur repeatedly in many real-world applications, and permanently ensure the highest precision.
Process adaptations / Installation
A large number of different process adaptations ensure great flexibility with regard to installation in new plants and retrofitting in existing processes, tanks or pipes. In addition to pressure sensors with hygienic thread, tri-clamp connection or even O-ring seals, there are also variants that can be installed in pipelines with smallest nominal diameters from 1/4″.