Now also certifiable: IZMSA with TC7520 (2014/32/EU)
The hygienic flowmeter IZMSA is now also available with Evaluation Certificate TC 7520 for installation in official measuring systems according to 2014/32/EU and for Custody Transfer Measurement. The certification for use in official measuring systems according to 2014/32/EU allows the IZMSA to be easily accepted and sealed by a Weights and Measures Office, thus ensuring […]
16 Oct 2023
The hygienic flowmeter IZMSA is now also available with Evaluation Certificate TC 7520 for installation in official measuring systems according to 2014/32/EU and for Custody Transfer Measurement.
The certification for use in official measuring systems according to 2014/32/EU allows the IZMSA to be easily accepted and sealed by a Weights and Measures Office, thus ensuring tamper-proof control of the flow rate. Together with the measuring accuracy of ±0.5% ±2 mm/s and the special suitability of the IZMSA for foods and beverages, this can play a significant role for breweries, dairies, or the beverage industry. Typical applications are receiving and processing of product or raw material, third-party filling or filling into kegs or other transport containers.
The IZMSA electromagnetic flowmeter optionally offers further functions for filling operations, such as quantity preselection control, self-monitoring with automatic fault diagnosis or separate temperature recording, and is also available as a remote version.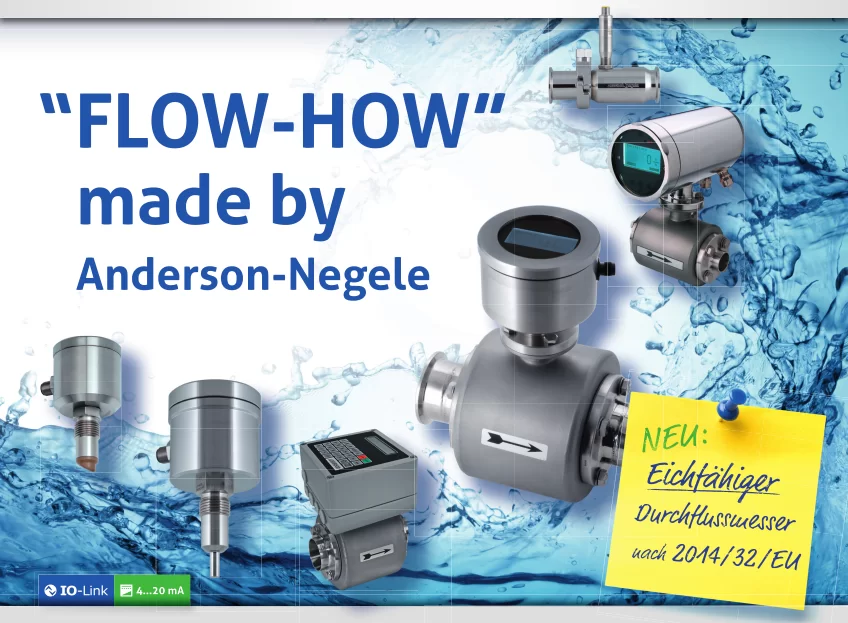 From raw material reception through the various processing and finishing operations to CIP control, as well as for media of highly varying consistency and viscosity, process quality and efficiency depend to a large extent on precise flow control. With the new certifiable version, Anderson-Negele is taking a further step in its corporate development: with an extensive range of individually configurable flow sensors, the hygiene specialist offers the most suitable solution for almost any application. Hardly any other supplier can offer such an extensive range of sensor technology specifically developed and manufactured in-house for the food and beverage industry. The product range now includes temperature, pressure, level, point level, turbidity, conductivity, load cells, and also flow meters and flow monitors in many versions.