How can IO-Link make processes faster, simpler and more flexible?
Discover our new brochure and website!
15 Nov 2023
Sensors with digital communication and Flex-Hybrid technology make planning, commissioning and operating your food and beverage production systems simpler, faster and more flexible. For existing analog systems, Flex-Hybrid means simpler programming, sensor changes with "plug-and-play", and if you upgrade to IO-Link control at some point, the sensors are changed over simply by plugging them in.
IO-Link is a standardized, digital, fieldbus-independent communication protocol based on the IEC 61131-9 standard. Many suppliers of sensors, pumps, valves, other actuators and control components offer devices with IO-Link. At Anderson-Negele alone, we can already offer instrumentation for the turbidity, conductivity, flow, level, temperature and pressure measuring ranges from a single source and connect others using converters. This means that complete process systems or skids can be connected by simply plugging in the devices and connecting them to the PLC with a single cable.
In our new brochure or on our website you will find answers to questions such as:
Which applications, process plants and skids can be run entirely with IO-Link sensors?
Can I operate a complete production plant with IO-Link interface alone?
What advantages does IO-Link offer when planning, installing and commissioning systems?
What do I need to use IO-Link and where can I find it?
How can I connect devices that do not offer IO-Link?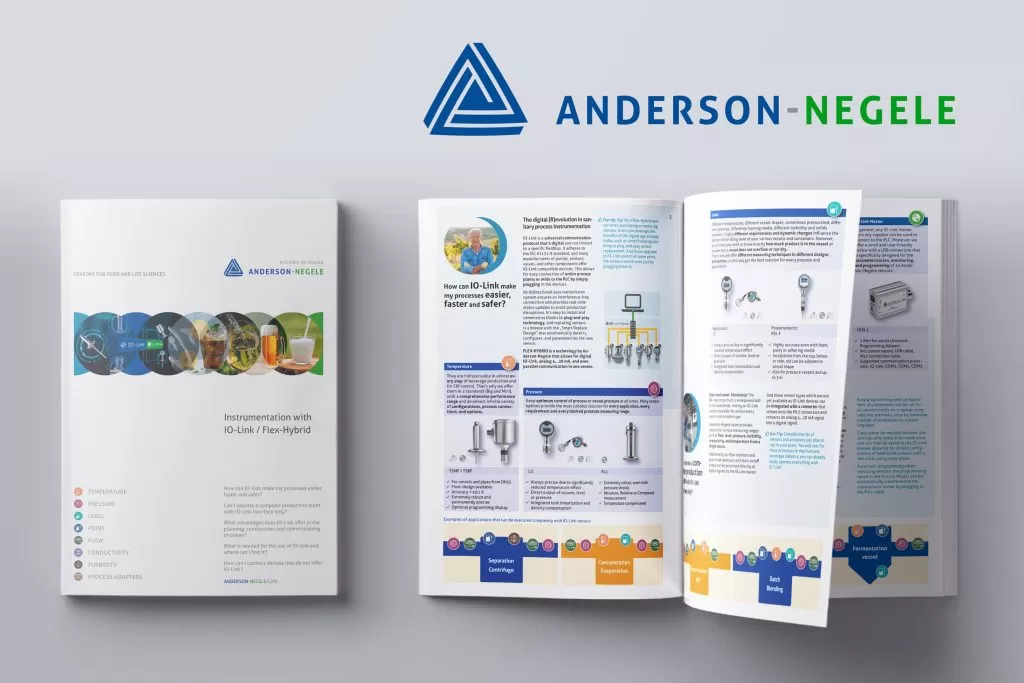 You can download the brochure "Instrumentation with IO-Link / Flex-Hybrid" as a PDF here.
Click here to go directly to our "IO-Link / Flex-Hybrid" website.
Here you can see an example of how IO-Link works in practice. The Bellarine Foods dairy was completely realized with IO-Link. You can open the application report here.
Our tip: Always choose a Flex-Hybrid sensor when buying new or replacing existing sensors. This allows you to benefit from the advantages of the digital world today: simpler programming, sensor replacement with "plug-and-play", and if you upgrade to IO-Link control at some point, the sensors can be converted simply by plugging them in.
Do you have any questions? You can contact us here.