TS – The right solution for every application
The new class for temperature measurement: The TS series with TSB (compact version) and TSM (mini version) is now complete for food and beverage applications.
29 Jul 2021
With its flexibility and performance, the TS sensor series sets new standards in temperature measurement. After the introduction of the mini version TSM, users were enthusiastic about the simple configuration, problem-free commissioning, and new functions based on the Flex-Hybrid technology with digital and analog data transmission.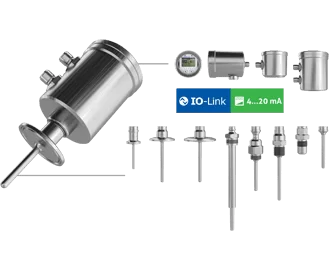 Now the compact version TSB follows with even more variants, application possibilities and options. For example, the sensor head can be equipped with an easy-to-read LCD display for optimized on-site control and can also be oriented horizontally or vertically. , such as
The
Flex Hybrid technology with IO-Link and 4...20 mA
combines the best of both worlds: Data can be transmitted from the sensor in digital or analogue mode
Flexible communication with plug and play saves time and money during installation and commissioning
Simple individual programming with IO-Link master, e.g. for changing the measuring range or for two-point adjustment using zero point and slope. The USB - IO-Link Master IOM-01 is available as an accessory
Sensor replacement is easier than ever before thanks to the "Smart Replace Design" with automatic sensor identification, configuration and parameterisation via IO-Link
With improved product performance, TSB is the new benchmark for temperature:

Extended process temperature range: -58...482 °F (-50...250 °C)
Greatly improved measuring accuracy: < ±0.1 K
Higher ambient temperature resistance: 185 °F(85°C)
Robust design completely in stainless steel: lasting stability and application safety



The freely configurable concept allows you to assemble each individual desired sensor in just a few steps. At the same time, the TS series is fully backwards compatible, both mechanically and electrically, and can replace any existing TS sensor without modifications. The new TS generation offers a suitable solution for every application:

For new equipment, the modular design together with the Flex-Hybrid technology means maximum flexibility and future-proof set-up for every application
For retrofitting, TS can replace any TS sensor in existing systems - with all the additional advantages
For the replacement of third-party devices, a suitable model is always possible due to the large selection of process adaptations and maximum flexibility in configuration



Thanks to the wide range of variants in each of the configuration levels, almost all requirements in food or beverage applications can be realized:

Sensor tips in lengths from 1 to 43 inch allow very specific adaptation to the respective installation conditions and various diameters provide very short response times if required for process control.
A thermowell allows the sensor to be removed without opening the process. The process adaptation can be welded in, screwed in, or installed as a clamp connection by means of an adapter. During operation and without risk of contamination, the TS can be removed or replaced at any time for testing or adjustment.
The huge selection of process adapters for screw and clamp connections allows the TS to be installed on almost any existing process fitting.
In the further configuration stages, a sensor head with or without transmitter and a selection of electrical connections with protection class IP 69K can be selected.


The "heart" of the TS temperature sensor, the two-wire input Flex-Hybrid transmitter TTB, is also available as a separate device. It converts the temperature signal of any resistance thermometer into a scaled analog and digital signal (IO-Link and 4...20 mA) proportional to the temperature. The module can be integrated directly into the connecting head of a temperature sensor like TSB series or third-party devices with a DIN B Housing. By mounting the transmitter directly at the point of measurement no additional converter in the PLC is necessary, providing low installation costs, uncomplicated wiring, and high noise immunity.


Click here to get all infos on TSBA for Food Applications.