The perfect instrumentation for Craft Brewers
As a passionate craft brewer Rainer Kruppa has optimised his own organic-certified Calenberger brewery using the latest instrumentation solutions from Anderson-Negele.
17 Jul 2023
Rainer Kruppa is an experienced brewmaster who can produce up to four brews of 1,200 litres each per day, all crafted according to his personal recipes. In addition to his own beer varieties, Kruppa also produces unique brews for "gipsy brewers" who lack their own brewing facilities.

Kruppa's success is due in part to his partnership with Anderson-Negele and its measurement technology solutions. Anderson-Negele's instrumentation solutions have helped Kruppa to optimize his brewing processes and ensure the highest standards of quality and innovation.

Drawing from his practical experience, Kruppa has established a secondary venture: a brewery manufactory. He sources old brewing equipment, restores and modernizes it to create fully functional breweries for local customers. When it comes to his projects in Spain, Southeast Asia, Brazil, and other locations, Kruppa exclusively considers Anderson-Negele as a partner for measurement technology, given their global sales and service network. Together with Anderson-Negele, Kruppa ensures the success of his brewing endeavors while upholding the highest standards of quality and innovation.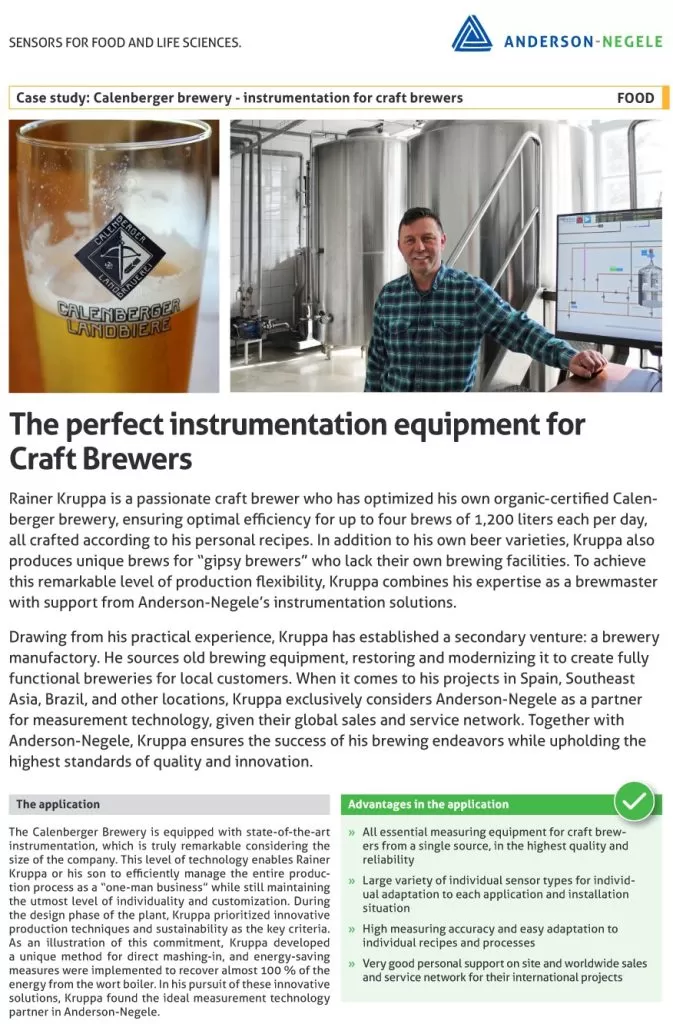 Click here to read how Anderson-Negele contributes to this success with specialized measurement and international partnership support.
And here you can find everything about sensor technology for the brewing process on one page.