New brochure and website for brewers: What can Anderson-Negele contribute to optimizing the brewing process?
Every brewer has the claim to offer his customers a consistently high, unmistakable beer taste. But he also has the need to ensure an economically successful basis for his company in the brewing process through process and cost optimization. It is an expression of the art of brewing to achieve both at the same time for a product that is subject to so many influences and has such a wide product variety as beer.
17 Jan 2023
Intelligent measurement technology can help you
ensure consistent product quality throughout the brewing process, even with fluctuating raw material qualities,
automate processes,
minimize energy and resource consumption, and
avoid production downtimes.
You can take a look at our product portfolio and compose your "dream sensor system" for your brewery.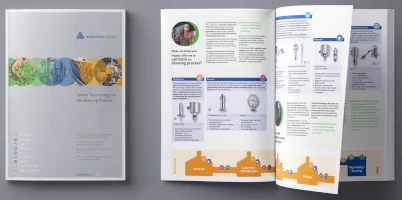 We have summarized in an overview brochure how we at Anderson-Negele can support you in optimizing your brewing processes. We not only address which sensors we offer for which processes, but also specific questions that are of particular concern to you:
How can measurement technology save energy?
How can analysis sensors contribute to process automation?
What advantage do remote sensors offer?
What exactly does "Hygienic By Design" mean?
What can digitization with IO-Link achieve?
Does all of this really work in practice?
You will find answers to these questions and many tips in our new brochure and on our website:
Here you can download the brochure "Measurement technology for the brewing process" as a PDF file.
Here you can go directly to our website "Measurement technology for the brewing process".
Check at our product portfolio and put together your "desired sensor technology" for your brewery. Here you can contact us.