New Distribution partner for Netherlands and Belgium
New Distribution partner for Netherlands and Belgium
13 Sep 2018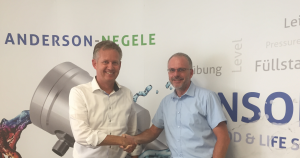 Arjen van Stenis (Managing Director) from Startflow B.V. and Stefan Hauck (Director of Sales) from Anderson-Negele confirm by handshake their new co-operation which covers the distribution of the entire product range from Anderson-Negele in the countries Netherlands and Belgium.
Startflow B.V. is known since decades as a specialist for the design, construction and implementation of components and systems for the process industry, formerly under the corporate name Inrada Flow Controls B.V.
Both companies expect from the co-operation a big chance for a common success: on the one side Startflow can enlarge their product offer by a comprehensive, high quality and well-established sensor product range. Anderson-Negele on the other side can improve its local quality level in application consultation, sales and service in the food and pharma industry.