How can an inline refractometer optimize processes, secure product quality and reduce costs?
When traveling through media with different density, light rays are bent or refracted. The density of a liquid medium depends on the concentration of dissolved matter in the liquid. When this density or concentration changes, consequently the refractive index of the light, i.e. the angle in which the ray is bent or refracted, will also change as a result.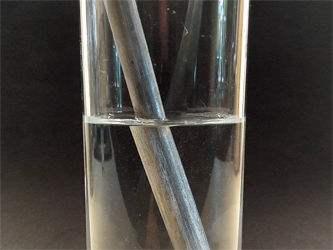 As an inline Brix meter, the
IRM-11
constantly and precisely measures this refractive index with an integrated optical sensing technology. It calculates the value of the concentration of dissolved substances such as sugar, salts or lactose in media and transmits it to the PLC. This enables, for example, to accurately control the blending ratio of juices, mixed drinks and soft drinks, or to determine the dry matter in dairy products and the original wort in brewing processes.
Three key features of the IRM-11 refractometer are fundamental for a superior efficiency of process analysis:
The measurement is inline, temperature-compensated and continuous.
When measuring manually, the entire output produced between two samples can be defective. IRM-11 can avoid product losses due to its permanent measuring method.
The compact all-stainless steel design and the simple, flush-mounted installation without bypass ensure maximum reliability in all applications
Technical Specification
| | | |
| --- | --- | --- |
| Measurement category | Can be configured at the factory | BRIX, Plato, Refractive Index, others on request |
| Measurement range | Factory selected | 1.3330-1.5000 Refractive Index (nD) | 0-85 BRIX | 0...30 °Plato |
| Process connection | -------- | Tri-Clamp 2" | Varivent type N | DN40/50 |
| Process pressure | --------- | -1...20 bar (-14.5 psi...290 psi) |
| Materials | Connecting head | Sensor | Lens | Plastic cover/sight glass | Stainless steel AISI 304 | Stainless steel AISI 316L | Sapphire | Polycarbonate |
| Temperature ranges | Ambient | Process | CIP/SIP | -10...60 °C (14...140 °F) | -20...100 C (-4...212 F) compensated range | Up to 140 °C (284 °F) max. 60 min |
| Repeatability | °Brix| °Plato | nD | +/- 0.1° | 0.0001 |
| Accuracy | °Brix| °Plato | nD | +/- 0.1° | +/-0.0002 |
| Response time | ------ | 3 s |
| Communication | Zero adjustment | via USB and PC interface |
| Electrical connection | Cable gland | Cable connection | Supply voltage | Protection class | M16 x 1.5 | M12 plug | 5...24 V DC max. 190 mA | IP69K |
| Output | 1 analog output | 4...20 mA (scaled to measurement range) |
| Weight | --------- | 480 g (1 lbs) |
In which applications do hygienic inline refractometers offer advantages?
The inline analysis of media based on their density or concentration offers great advantages in many areas of application. Integrated process refractors can analyze liquids, fruit preparations and creams in a variety of production processes in the beverage and juice industries, dairies, breweries, wine production and other food businesses. And always according to qualitative criteria in real time, fully automatically and in the process line.
Here are examples of typical applications:
Control of the blending:
monitoring of the concentrate, dosage control for a constant sugar content when blending the final product, and quality control in the bottling of various beverages and foods:
Juices, syrups, nectars and other mixed drinks
Soft drinks and refreshments
Energy drinks
Jams, jellies and marmalades
Creams, fruit preparations and other desserts
Other liquid or pasty products
Determination of dry matter:
In many dairies, spray drying is an efficient method to obtain high-quality whey powder from milk or other milk products.
If the dry matter content is higher than specified, the cooler can clog and fail, the process is interrupted, and the added value is reduced.
If the dry matter content is too low, the end product becomes too dusty and can lose quality and value in subsequent processing.
With an inline refractometer, correct concentration in the evaporator can be continuously monitored and controlled during the process.
Measurement of mash concentration and original wort:
by continuously measuring the Brix or Plato value during wort boiling, the specified value of the original wort can be monitored.
Glycol control in the primary cooling circuit:
If water enters the glycol circuit due to leaks in the cooling system, this is not visible to the naked eye.
The concentration of the coolant glycol can drop too far and thus freeze the tubes of the primary cooling circuit.
Repair costs, a complete refilling with glycol mixture and a loss of production can cause high costs as possible consequences.
Continuous measurement of the glycol concentration with the inline refractometer ensures automatic, active monitoring of the concentration
How does a refractometer work?
Liquids or gases (such as air) with different densities refract or bend light rays to different degrees. If a pen is held in a glass of water, it appears bent when viewed from the side because of the differing refractive index between air and water. The light propagates at different angles as it passes between media. By measuring this angle, the density of the medium and thus the concentration can be determined very accurately.
What types of refractometers are available for concentration measurement?
For food and beverages, handheld refractometers and inline or process refractometers are primarily used. In beer or wine production, these devices are typically applied to control the status of the fermentation process in lautering or fermentation tanks by means of manual sampling. Handheld refractometers are less suitable in production processes, where these manual samples must be taken at short intervals for precise process control, often every 20 minutes. Here inline or process refractometers offer clear advantages.
What is an inline refractor or process refractor?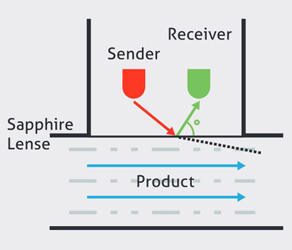 Inline refractors are integrated directly into the piping of a process plant by means of hygienic process connection. Here they continuously measure and analyze the media in the pipes. For this purpose, an LED source directs light into the process media. The density of the liquid has a direct effect on the light radiation and changes the refractive index. A receiver records the angle of the light's reflection and thus the refractive index. Since the refractive index of a medium also depends strongly on its temperature, a temperature-compensated value is calculated in the sensor's measuring electronics and output on the scale selected by the customer. The units are °Brix, °Plato, nD refractive index or in other individual scale.
How can an inline refractometer save operative costs?
The sensor integrated in the process measures continuously, i.e. fully automatically at the desired time interval, which can be set from 2 seconds. This saves approx. one man-hour of working time per day or shift compared to manual samples.
With manual measurement, the entire product produced between measurements, e.g. every 20 minutes, can be defective. IRM-11 can carry out continuous quality monitoring by means of the permanent measuring method and avoid these product losses.
Temperature fluctuations lead to deviations in the measured values. IRM-11 is fully temperature-compensated and therefore always delivers precise results, even with rapid temperature changes.
The IRM-11 refractometer is very compact and lightweight and can be integrated quickly and easily without bypass with a Tri-Clamp or Varivent process connection. Other devices are often considerably larger, heavier and sometimes in two-part design with special built-in components. Compared to those, the IRM-11 can be installed in a very quick and cost-effective way, and the commissioning is extremely easy due to the preset software
What does hygienic design mean for refractometers?
The
IRM-11 refractometers
are made of the highest quality materials:
Wetted parts: stainless steel AISI 316L
Optics: Sapphire
Protection class: IP69K
Light source: LED
Due to its compact and only 480 gr. light, but at the same time extremely robust and durable design, the sensor withstands even the highest mechanical stresses such as vibrations and pressure surges, which frequently occur in many applications in practice, and permanently ensure the highest measuring precision.