The Application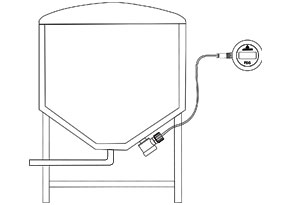 Process Variable Measurements in Viscous Fluid Foods
The Requirements
The plant ordered temperature transmitters with direct mount wiring heads and local indicators for use on cone-bottom tanks. The thermowells were positioned near the bottom of the cone so upon installation it became obvious that the displays were going to be very difficult to read. Our RSM for that area stopped in and quickly came up with a unique solution that satisfied the customer.
The Anderson-Negele Solution
We supplied a "mini" wiring head, a length of extra cable, and a replacement "dual port" cord grip. The customer replaced the standard wiring head with the mini on the SA probe, and mounted the existing head where it was easily viewed (a side benefit was that the transmitter was now better protected from moisture and very accessible for calibration checks). The dual cord-grip allowed them to use the bottom penetration to mount the head, while providing access for the input and output wiring through the side penetration. The temperature transmitter head was mounted on a wall by the customer using a short ½" NPT nipple threaded into a flat flange that was in turn mounted to the wall. The diagram depicts what the final installation looks like. Keep in mind that a similar result can be attained in a couple different ways, provided the right questions are asked up front.Option #1: SA or SW with mini wiring head and xx feet of pre-wired RTD cable, plus a CT wiring head with transmitter and display. These parts can be mounted as described above. Typical part numbers: SA51XYZABC0105 where XYZ-ABC is the fitting required for the process or thermowell; 25' cable pre-wired thru factory supplied cord-grip; CT13077F030105 Standard wiring head with single 4-20mA output and deg F display (Adjust p/n as required for range and units); 42080-D0001 special dual entry cord-grip.Option #2: SA or SW with a QDR and a FWC with xx feet of pre-wired RTD cable, plus a CT wiring head with transmitter display. This is a bit less expensive than option #1 and makes the assembly more flexible. Typical part numbers: SA71XYZ-ABC01A2, same as above except RTD supplied with quick-disconnect and 25' cable in pre-wired connector. CT and special cord-grip is same as the above.