Anderson-Negele launches the first turbidity sensor with IO-Link: ITM-51 now available
Anderson-Negele is pleased to introduce the first turbidity sensor with IO-Link. Our family of parallel-hybrid sensors with digital AND analog interfaces continues to grow:, the ITM-51 turbidity sensor complements the ILM-4 conductivity sensor and offers simultaneous access to digital AND analog interfaces. As we continue to move forward, all measuring ranges will be upgraded with IO-Link technology.
2 Jul 2019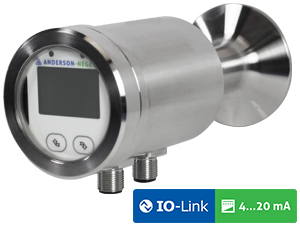 The ITM-51 turbidity sensor offers simultaneous access to digital AND analog interfaces through IO-link technology. This means data can be transmitted digitally alongside 4...20 mA technology giving users the ability to switch from analog to digital network technology at any time – the best of both worlds! By combining IO-Link with the modular platform, a unique combination of hardware and software is created that is unmatched in flexibility, simplicity and system compatibility.
Anderson-Negele will continue to grow our family of parallel hybrid sensors as we expand the IO-link technology to all our product lines.
Proven industry standard now also for hygienic and aseptic applications

In times of rapid technology progress, IO-Link creates investment security. Digitization, one of the key drives of Industry 4.0, has found its way into many branches of industry and, today, it's impossible to imagine life without it. With IO-Link, you can reliably manage all aspects of process control and bring all measuring points, control devices, and operating elements into one dependable system. After extensive suitability testing, Anderson-Negele is using this technology as the data transfer standard in sanitary application across the food, beverage, and pharmaceutical industries.
The (R)evolution in sensing technology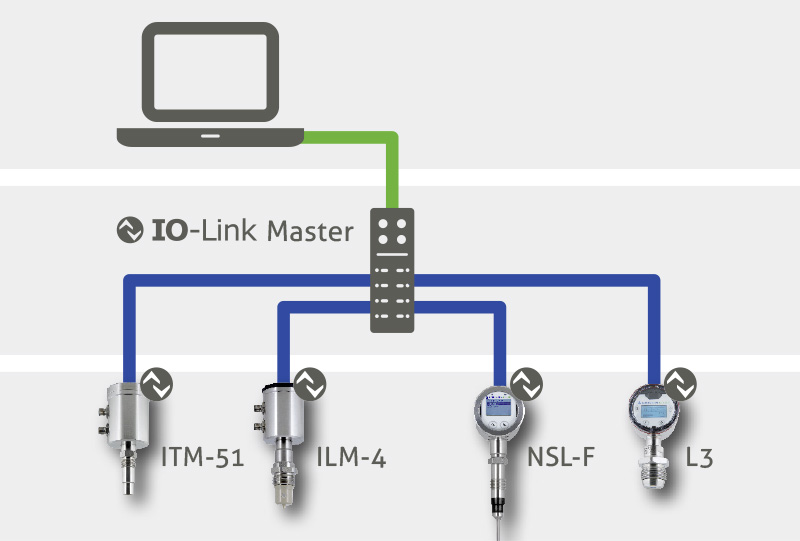 IO-Link is comparable to a multi-lane data highway instead of a narrow one-way street. It enables continuous, bi-directional digital communication from the highest to the lowest level providing both time and cost savings.
A three-pole standard cable is all that is needed for interference free signal transmission and power supply (no special shielding required). A wide variety of sensors can be connected to the IO-Link Master using a point-to-point connection, which acts as a bridge to the control center via a wide variety of fieldbus systems.
Simply by connecting a new cable, the sensor is easily converted from analog to digital without having to touch the hardware or change any settings.
From simple data transfer to intelligent communication
With IO-Link, data can be transmitted to the control center and back out to the sensor allowing individual sensors to be set, queried and checked at any time. This makes it possible to detect potential faults, signs of wear and increased risk of failure at an early stage. Maintenance work can be planned according to true need, and production downtimes can be minimized.
"Plug-and-Play" has a totally new meaning
With IO-Link, sensor replacement is easier and safer than ever and can be carried out independently, at any time, with no programming knowledge needed. The complete configuration of each connected sensor can be stored in the IO-Link Master. The new sensor is automatically recognized, configured and parameterized by the IO-Link Master when plugged in. Your new sensor is immediately ready for use.
The new dimension of hygienic measurement technology is hybrid and modular
IO-Link, alone, is a big step towards Industry 4.0 in hygienic process technology. With its application-specific configuration, the modular sensor platform offers equipment that is tailored to meet your requirements, cost-optimized, and enables simple replacement of individual components (e.g., displays, electronics). The optional remote version features separate sensors and electronics housing. The electronics are identical for all sensor types and are recognized independently. This "Smart Replace Design" means each sensor can be replaced simply by plugging in the cable and one replacement unit of electronics housing and cable is enough for all sensors.
To learn more about the ITM-51 with IO-Link, visit its product page.