Anderson-Negele Celebrates 500-days Safe
Team celebrates 500 days without a lost-time accident or OSHA recordable safety incident
15 Mar 2018
FULTONVILLE, NY, – Today, the global headquarters of Anderson-Negele in Fultonville, NY celebrated surpassing 500 days without a lost-time accident or OSHA recordable safety incident. With total exposure of almost 250,000 employee hours, the focus of the entire Anderson-Negele team contributed to and celebrates this significant accomplishment.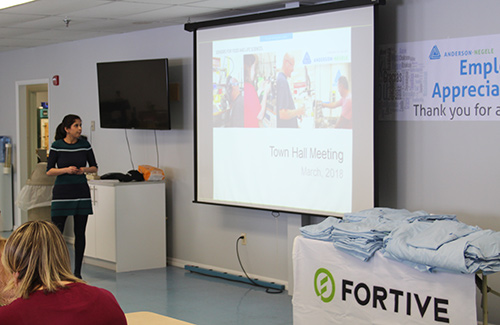 "The continuous improvement culture at Anderson-Negele has led to employee vigilance on proactively identifying and correcting potential near misses and safety issues," said Jessica Pharr, Environment, Health & Safety (EH&S), and Quality Leader. "But, to continue to progress and grow, we need to maintain focus on keeping our team members safe each and every new day they come to work."
During this period, Anderson-Negele has continued to hire and train new team members, launch new products and make quality and productivity improvements in the factory, all while focusing on the environmental, health and safety impact of each change or improvement.
"This milestone is a testament to the safety culture we have established at Anderson-Negele," said Caleb Brown, Operations Manager. "Our employees are committed to identifying opportunities to continue to improve our working environment. The team is more effective when they know they can provide for their families from a safe working environment like Anderson-Negele."
Anderson-Negele is always looking for great people to help us accelerate progress.
About Anderson-Negele
Anderson-Negele is a global instrumentation company with the mission to provide complete sensor solutions & services for hygienic process engineers in dairy, food and pharmaceuticals. In short, it ens safe production of anything you can eat, drink, rub onto, or inject into your body.
Anderson-Negele serves its global customers from its global headquarters and full functional staff in Fultonville, NY, European headquarters and fully functional staff from its Bavaria, Germany facility, and sales and service team members around the world.