Flow measurement: highly accurate and reliable
Negele introduces FMI, a new, magnetic-inductive flow meter.
27 Oct 2010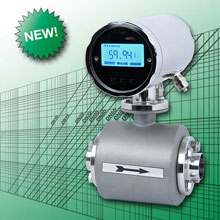 Negele introduces FMI, a new, magnetic-inductive flow meter.
FMI, the new, magnetic-inductive flow meter, is designed for applications that demand exceedingly high accuracy and hygiene.
FMI is a modular unit that can be configured for demanding food applications as well as for the pharmaceutical sector. It comes with a wide variety of process adaptations that allow it to be readily integrated in the plant. These are available for all tube standards, including DIN, ISO and ASME. In addition, an aseptic flange connection in compliance with DIN 11864 provides a safe and hygienic connection to the process.
FMI: Strong in food!
FMI greatest strength lies in applications that demand very high accuracy, even when they have a very low flow rate. Precise measurement has a major impact on costs, and this is particularly true for pasty, slowly flowing products that often are also expensive, such as cottage cheese, cream and yogurt. With a basic accuracy of 0.2 %, FMI offers the necessary capability.
Because of its piggable design, FMI also offers decided advantages in cleaning, since the flow meter does not need to be removed during pigging of the pipework.
The high quality, vacuum-proof PFA covering of the sensor provides maximum resistance during CIP and maximum reliability during hot-cold changes.
FMI: Strong in pharma!
The pharmaceutical industry has requirements that extend beyond stringent demands for reliability and hygienic design in flow meters.
Negele therefore offers a special pharma model of the FMI.
The sensor design is EHEDG-conformant and the PFA covering has a high surface quality. All pharma process adaptations are electropolished to Ra <0.4 µm.
To make it possible for manufacturers to trace back all delivered components and thus to meet the stipulations of their quality system, the following material certificates and declarations are included in the scope of delivery for materials that come into contact with the measured medium:
Inspection certificates 3.1 as per DIN EN 10204
Conformity declarations as per FDA or DIN EN 1935/2004
USP Class VI
Certificates for calibration, surface roughness or delta-ferrite content are also available.
Additional general advantages at a glance:
Bluetooth interface for convenient parameterization on a laptop
Profibus DP field bus communication
Reliable operation even in wet areas due to non-contact switch elements
Swiveling graphic display and measurement electronics, enabling the display to be rotated as needed depending on the installation situation
Automatic empty pipe detection avoids undefined figures caused by empty pipes
Would you like to know more about FMI?
Our technical customer representative will be happy to assist you. Or simply write us a note.