Turbidity is the phenomenon where by a specific portion of a light beam passing through a liquid medium is reflected by undissolved particles. The sensor measures the light that is reflected by these particles to determine their concentration in the liquid. Purified water would have close to zero undissolved particles, while ice cream mix has a high concentration of undissolved particles. An inline turbidity sensor is installed at leverage points in the dairy product (see Fig. 1) handling process to facilitate instant detection of the following phase changes:
Product-to-Product
Product-to-Water
Water to Cleaning Agent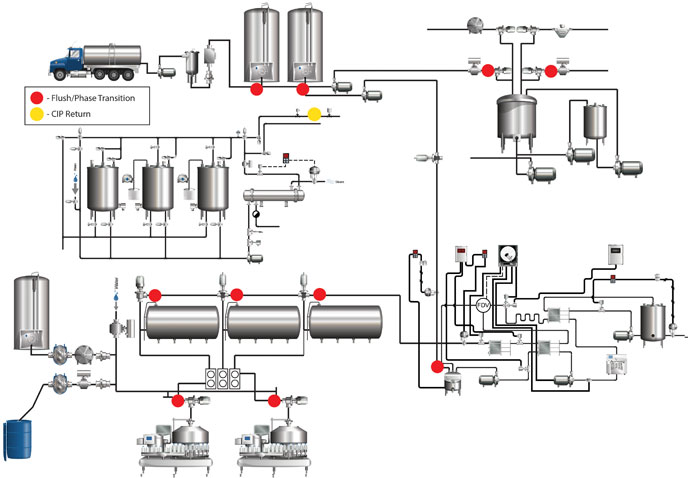 The turbidity sensor allows instant and accurate monitoring of product changeovers or CIP programs. During the phase separation of the media or during the start-up and emptying of the process, the media must be differentiated. The turbidity sensor can detect the instant a liquid media reaches a pre-defined specification, automatically switching media to its appropriate container. The benefit to a CIP system comes from having a good control pre-rinse. The turbidity sensor determines when the pre-rinse has flushed the soil from the system. If the water runs to long, you use far too much water and don't know where your soil or high BOD comes in. If the first rinse is done correctly, the rest of the wash cycle is predictable with corresponding chemical savings. The CIP process monitors the flow of solvents for the pre-rinsing, cleaning and final rinsing operations which are performed with acids, bases and water. The process includes the following process steps:
Pre-rinse with warm water
Alkaline cleaning phase
Intermediate rinse
Acidic cleaning phase
Disinfection
Final rinse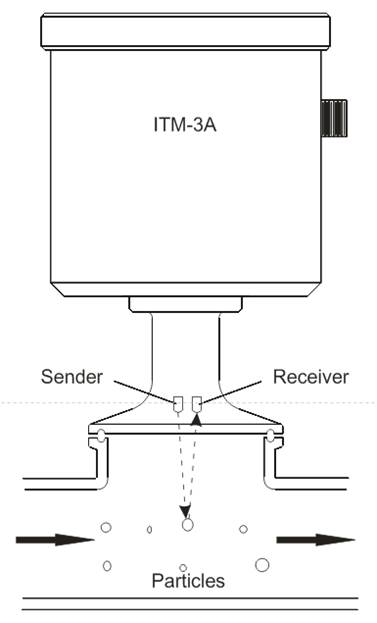 To eliminate the risk of bacteriological contamination, CIP is sometimes followed by sterilization with steam via a process known as SIP (sterilization-inplace). Most semi-modern CIP processes are known as recovery systems where every attempt is made to re-use the cleaning agents as many times as possible for both cost and environmental considerations. When starting up, running empty or transferring between tanks, the milk product must be differentiated from the rinse water remaining in the piping. The infrared light is directed to the center of the pipe. This eliminates any potential variances caused by temperature, changes in viscosity, or build-up on the pipe. The measurements are always accurate and repeatable.
For example, here are the principles of operation of the ITM-3 turbidity sensor:
An Infra-red LED emits light into media through the sapphire lens
The receiver measures the amount of light reflected back by particles suspended in the media
It generates a signal that is proportional to the amount of particles. This is the relative turbidity