BAMUL Dairy – The Bangalore Urban, Rural & Ramanagara District Co-Operative Milk Producers societies Union Ltd. (BAMUL) was established during 1975 under operation flood II by keeping AMUL as its role model. The BAMUL is a unit of Karnataka co-operative Milk Producers Federation (KMF) which is the Apex Body in Karnataka representing Dairy Farmers Co-operatives. It is the second largest Dairy Co-Operative amongst the Dairy Co-Operatives in the country. In south India it stands first in terms of procurement as well as sales. The Brand NANDINI is the house hold name for Pure and Fresh Milk and Milk Products. The Bangalore Dairy is one of the most beautiful Dairies in India b y adopting Computer Controlled State of the Art Technology.
Customer

BAMUL Dairy, Bengaluru
The Requirements
Bamul Bangalore Plant was facing issue in their CIP return lines where the installed flowswitches were continuously failing due to high temperature CIP chemicals above 80 °C. They were looking for better alternative flow switch which can sustain such high temperature and provide better results in terms of quality and avoid failures.
The Anderson-Negele Solution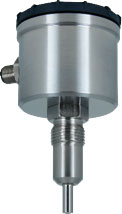 Our Calorimetric Flow Switch FTS-141 was offered which can with stand higher temperature up to 100 °C and the measurement is also compensated up to 100 °C. After installing one FTS-141 they found that it can sustain high temperature with accurate display of flow rate % measurement range. They also appreciated the durability and accuracy factor which Anderson-Negele Calorimetric Flow Switch FTS-141 provides.With such outcomes Bamul Bengaluru plant Maintenance team decided to standardize there CIP return lines process with Anderson-Negele Flow Switch FTS-141. Infact they have recommended their other plants also to use our FTS-141 Flow switch. View Product
Why the customer decided for Anderson-Negele
Process temperature up to 100 °C (Compensated)
Senors operates with self protection at higher temperatures
Highly durable and comes with SS body
No downtime during CIP process
Easy return of investment
Features
Calorimetric measurement principle with pulsed heating
Flow-optimized geometry of sensor tip
Insensitive to temperature shocks, short response time
Integrated sensor protection through automated switch-off at over temperature T > 100 °C (212 °F)
Adjustable switch output in % of flow rate